Bergen-Belsen Mass Graves (353 Images)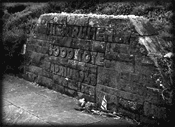 Mass Graves Bergen-Belsen

. Within the boundary of the memorial site Bergen-Belsen has 14 mass graves containing at least 23200 former prisoners. Two of these graves, containing unknown totals, were established by the camp administration in early 1945 when the number of dead increased to such an extent that the small crematorium could no longer cope.

After liberation the British Army immediately set to work clearing the estimated 10000 corpses that lay strewn across the site. Former SS staff, prisoners and Hungarian soldiers were used to dig the graves and bury the dead. On two occasions a bulldozer was needed to push the bodies into the graves as they could not be handled due to their advanced state of decomposition.

The British Army gave each of these graves an identity number, the amount of bodies they contained and the date they were completed. I have managed, from maps, photograph comparisons and film footage, to identify all but one of them. Until such time the last is identified I have listed it alphabetically.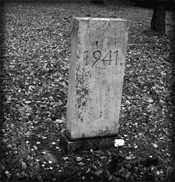 Soviet Mass Graves Hörsten

. In 1941 Stalag XI C/311 was extended to include a camp and Lazarett (field hospital) for the influx of Soviet POW's caught during Operation Barbarossa.

Between 1941 and 1944 an estimated 30-50000 Soviet soldiers died in Bergen-Belsen due to the totally inadeqaute living conditions. They died of starvation, froze to death or succumbed to disease. Most of the dozens of mass graves were dug in the winter of 1941/42 when 18000 POW's died. The single grave of a Polish female soldier can also be found in the Cemetery.

Immediately after the end of World War 2 the first measures were taken to lay out the Cemetery. In the summer of 1946 the Soviet Military Mission had a memorial erected with the inscription in both Russain and English 'Here are buried 50000 Soviet prisoners of war tortured to death in German - Fascist captivity'. On the other side of the memorial, in Russian, is 'Rest in peace, dear comrades - the memory of you will live on forever in the hearts of the peoples of the Soviet Union'. A commemorative stone was erected by the Germans in 1968.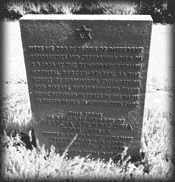 Mass Graves Bergen-Hohne

. On 8 April 1945, when Bergen-Belsen could no longer cope with the massive influx of evacuated prisoners, part of the Panzer Training School at Bergen-Belsen Barracks (now Bergen-Hohne) were taken over and used to house 15133 prisoners from Mittelbau-Dora. After liberation, between 21 April and 19 May 1945 the British Army evacuated Bergen-Belsen and housed the former prisoners in the same camp, or in the Wehrmacht hospital just to the North East. Many of these prisoners died and are buried within the confines of two cemetery's within Bergen-Hohne Camp.